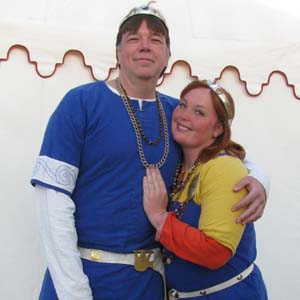 Their Royal Majesties Sven II & Kolfinna II welcome you to the Caid & Estrella War 25 Web Site. This year Caid takes on the assembled might of the Kingdoms of Outlands and Atenveldt. We look forward to the challenge and know that Caid and Her allies will bring honor, courage and fun to the fields of combat!
Caid Court, Sunday Afternoon, 4pm, Caid Royals.
We will be holding Caidan Court Sunday afternoon at 4pm. Come enjoy our final court of the war.

Pages
Estrella War Pre-Registration - Pre-Registration closes December 31, 2008 for mailed submissions and January 17, 2009 for online submissions. REMINDER - LAND ALLOCATION IS NOT THE SAME AS PRE-REG. Land allocation closes Jan 25th.

Estrella Room - Caid will be raffling off the right to rent each of three rooms

Treaty - Treaty Docs for 2008 A&S, Armored Combat, Rapier and Target Archery.

Camping with Caid Royals - For members of the court and allied royalty

Royal Party - Friday Night at the Caidan Royal Encampment
Contacts
Estrella 25 Caidan Royals - TRM Sven & Kolfinna

Estrella 25 Caidan Land Deputy - Baroness Adelicia of Caithness

Estrella 25 Caidan Royal Liaison - Duke Edric Aaron Hartwood